The Crow
April 12, 2012
The blackness of my heart come down to this, a man a murderer a natural born killer from birth

, being judged by the crow, my alternative, the devil himself, the crow, the devils delivery boy or God's angel of death,

The Crow begins to speak to me ,as it sits on my shoulder, it says I'm going to the park bench, the place where you sit when



the man upstairs doesn't know your judgement, I grow silent, I take the knife I have in my pocket and stab the crow

in the neck , it falls to the floor bleeding , it's blood was black, just like the sky outside, the thunder begins to roar,

the lighting cracked the city I stand inside, as I have doomed the world to Armageddon, or maybe



I'm just loosing my mind What can one little crow do, the crow then calls my name, and says you only make my job harder, why fight it death is already here for you, I'm sorry you feel this way, I turn around slowly and in an instant the crow flies towards and slash. it's a sudden pause in my breath, it begins to grow very thin, my vision is. black. then I fall



towards the ground, the crow laughs, and says foolish human you try to fight death, the crow then turns me to my back still with the cut on my throat , the crow says well it's been fun talking with you human and takes the knife in it's beak and slash cuts off my head , foolish human swine says the crow.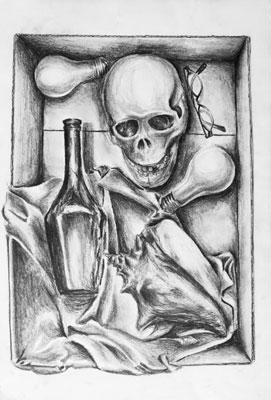 © Karen S., Norwalk, CT