Sunset
April 22, 2012
The last step of the mountains,
Running a long way to the end.
As they
Reach the desert,
Excess material is shot out.
For sustained generations,
The mountain stays placid, formed
By masses of stone. Full of
Distinct sheets of rustic pigments,
And a rigid frame. When this earthy visual
Blends into nature, the scene
Enraptures you in sincerity. The landscape
Is as if your hand is laid
On a sheet of intense red hues,
The color bleeds through your fingers.
The varied shades of the
Sky expands concept of serene.
It is impossible to define end boundaries.
There is more
Than just red, blue, and yellow.
More
To absorb.
As I watch,
Dusk gradually diffuses
Through the desert sky.
Migrating mammals
Head towards the south.
As they cut through the spectacle above and behind,
They are home.
Those in the mountains,
Can finally place
Their hats down to rest, their faces
Glowing red from a hard day.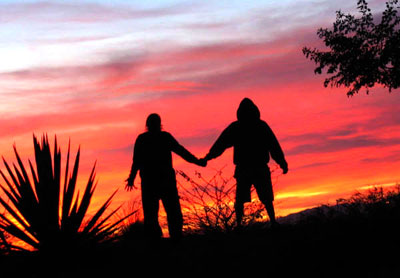 © Rosanna S., Phoenix, AZ