Bones in the Wind
April 17, 2012
A desperate cry
in a silent wood
rings in the sky
I'd flee if I could

A blanket of snow, a drape in the trees
lied upon the ground; a forest a-freeze
The forest is bound, and the snow a-glow
a-sparkle in the leaves, a glimmer in the trees

The silence it brings, in the motionless wood
muffles my cry, I'd flee if I could
But here I lie, in the ice that stings
oh if I could, if I could, I would fly if I could

Through the treetops, the harsh white sun
glared from the sky, proud to be the one
the only golden-eye a-fly. The brilliant sunlight drops
from up and above, illuminating the spot where here I lie

And from the treetops, a being with wings
flew through the air, bringing the raucous song it sings
It dives through the air, soars up then drops.
The song that it sings, through the trees it rings.

As the winged being, soars through the trees
it flew through the snow, spraying flakes and drops
falling from the branches a-bow with the weight of the snow
struggling in the leaves, then perching in the trees.

A jack-rabbit jacks, setting tracks behind
in the crisp snow, for the night hunters to find
this forest; the night hunters know, they follow the tracks
their white teeth bring death, taking away the last, desperate breath

In the dead of night, they creep from their lair
stalking their prey, with an unwavering glare.
When they close in to slay, they spill red in the night
howls echo in the air, drowning the inept in despair

And now my last breath, that escapes from my lungs
lingers in the frigid air, above me it hung
My heart fills with despair, now approaches my death
alone in this cold dark wood, staring at my final breath

When winter turns to spring, my body will rot
leaving white pallid bones, scattered at this spot.
Where once where my bones, dust will remain
bones that were skinned, flying in the wind

The remains of my bones, reduced to blanched dust
will take flight in the wind, riding on each gust.
Through the trees they will wend, the dust of my bones.
My life will end, with bones in the wind.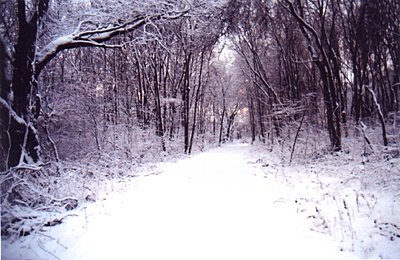 © Thomas W., Scituate, MA