Hurtful Help
April 21, 2012
Violet flower
it's you i see
stem smooth and petals shifted
from the reincarnated winds.

they swirl and whoosh
through your air, stealing fragments.
unbound by themselves
they reshape the shattered creations
except for you.

what holds me back
from being like the wind, Flower?
is it this metal gravity that traps me
and makes me ill and isolated from the world?

i hear the earth ticking
i see it follow a circular pattern,
but something is off beat.
is the core distorted?
mother nature's diagnosis
is hidden beneath our feet
do you feel it in your roots?

Deaf, blind, numb and in need
we stumble over the mountains for a cure
and crash into unforgiving rivers.
alone and desperate, we move on together

the growing depths of the ocean
and the tips of the atmosphere
refuse to hint
at the mutation
made in our questionable creation.

i look to my left
and find a yellow thorny leaf
it has jagged fanged edges
and a sharp crooked crease.
You've escaped its grasp, Flower,
but not at a low price.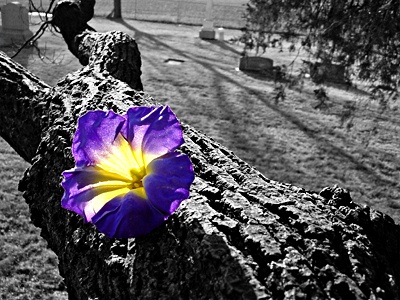 © Greg K., New Lenox, IL