Erosion Noise
April 21, 2012
The greenhouse glass ceiling is eroded.
Vines and moonlight drip down to the cracked pots.
Ghost roots reset into the opened earth.
Flashlight flickers dead. Storm.

I wake to a world shifting, wind sifting through the midnight pines. I am blind.
I stand, arms outstretched to fetch a branch, a landing, a path through the black.
I walk, wind unlocks the trees.
Hides grind alive, intertwined like mating snakes
spilling impassioned curses into the whirling firmament.
They caw and croak,
And sonic aliens descend among me¬¬—
deep creeping creatures, feathered and rustling.
Their beaks snap with the shifting wind.
Feet light across the nightscape, they scrape
past my side with the rushing crushing rattling of the battling woods.
They circle me in the recesses of the pines, waiting
curious if I too am a hunter.

Fear runs in sweat and I abandon—
Black wonder blots society,
structure and speech fray.
Soles peel apart in the undergrowth as my body moves
Moves beyond escape,
Into tunneled animalism.
The aliens overtake me
Feathers burst forth
A beak cracks
And I fold into the forest
Into the bucking black night
Into this sonic western galaxy.
Here we consume houses
Topple telephone wires
sprawl over city lights,
and breath out the deeper night.
We are the riptide, the cacophony of a world resetting.
And we wait for your flashlight to flicker dead.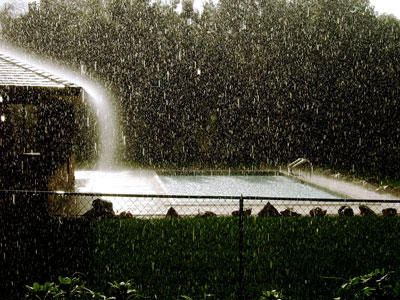 © Chelsea C., Auburndale, FL