Saved By Drowning
April 23, 2012
I am drowning.
I am breathless and struggling and I am drowning.
My body is shaking and fighting and refusing this fate.
Yet in the end, I find myself at the bottom of the ocean floor.

The ocean is a blue massive blanket that hides everything inferior to itself.
It is selfish and majestic and beautiful and arrogant and more alive than I ever was.
When I am waiting for my soul to come out of this earthly wet body and rise above,
My unconscious brain awakens and my eyes open.

I can breathe as I have never breathed before.
I can see as I have been blind until now
And I feel serenity all around me- in me and out of me.
I must be a part of this ocean or this ocean must be a part of me.

I am not the girl who was the enemy of this water a few minutes ago.
My hair is dancing with the tides. My eyelashes are drenched in salt. My fingertips are numb.
I demand attention and the world gives it to me.
I kiss the water, I kiss life, I kiss freedom.

I swim and swim and swim. I swim effortlessly.
I am accompanied by playful fish that try to tickle me.
Everything is too vivid and real that
I can feel my guilty earthly heart melt and become surreal.

Slowly, my legs turn into crystal sand.
My big brown eyes turn into two big rocks.
My hair transforms into green seaweed
My flesh and bones turn into thousands of little fishes and everything else disintegrates.

After some time I can feel my lungs filling with air.
I am slowly gaining conscious and water is leaving me.
Yet my friend serenity is still everywhere.
I left my worries and struggles and burdens in the ocean.
Now I am living to live.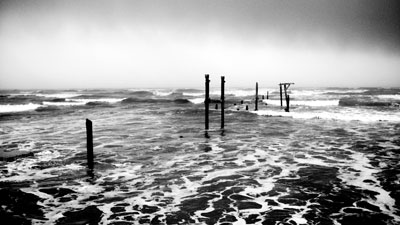 © Harrison L., Ruston, LA