Acting In Anger
April 17, 2012
Punching holes in the wall
and listening to music with a thumping beat.
Feeling no remorse
and can't stand the heat.

Can't be near you
need to take a walk.
Come back later
and maybe we'll talk.

Trying to calm down
not wanting to hurt you
not wanting to say anything I'll regret
whether it's a lie or whether it's true.

I fear that I'll let my anger
get the best of me.
Being the most subtle person,
I don't confess to be.

Let me get on the top of a mountain
and scream and shout.
Let me cry my tears
and let it all out.

Not wanting to put you in harm's way
because to you, I'm a danger.
I have to get away from you
whenever I'm acting in anger.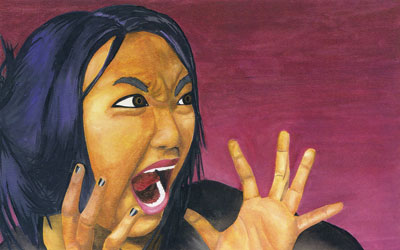 © Lauren S., Forest Hills, NY