Gazelle
MAG
April 16, 2012
Sitting in this olive tree
Upon the branch most concealed,
I gaze down upon
Your tender head,
Holding my breath
So you won't hear me watching you.

You go about your business
Unaware of any presence –
You who transform into a gazelle
As soon as you leave the eyesight
Of those people whom you perceive as
Vicious critics, ready for the kill.
Such a gorgeous creature you are –
So graceful, calm, and at ease.

You say,
"One must not be seen as prey,"
"One must always be ready
To blend into the ugliness of this world,"
"One must avoid risk at all costs."

So you only allow yourself
To be beautiful
When you are alone, I see,
When all is quiet and serene.
So I sit here upon this branch
In a painful silence,
Studying your elegance,
Taking in your beauty.

I don't move,
I don't make a sound
Lest you think I was a danger
And thus mask yourself once again,
Camouflaging yourself
With anger and ugliness,
Hoping to avoid all eyes –
For perhaps, someday,
Someone like me will see through
Your costume,
And you will finally have to
Risk your life
In order to
Save it.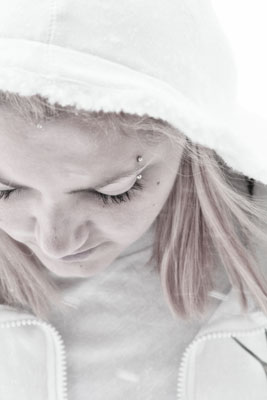 © Jessica F., Bradford, MA