An Unchangeable Hierarchy
April 16, 2012
Broken hearts will mend,
Times will change,
And you will follow.
They're in on all the trends
With their clones
And words so hollow.

I listen to their laughter,
Always aimed at me.
No matter what I do,
They see me as a "wannabe".

I don't want to be them,
Up on center stage with delusional dreams.
I don't want to hear them
And their stupid rumors that spread like disease.
None of them are true
But no one will believe you...

On their throne
With loving fans
And perfect hair,
But still alone
And wondering why
I say "This isn't fair."

They rule the corrupted world
And pour used glitter down on me.
They dance under colored lights,
But it's not for free.

I don't understand
Why they just can't see
I have something to say
But they refuse to listen to me.
I will stand alone against the world
And listen to their lies still swirl...

They may paint me up and down with electronic beat
But I will not submit in defeat -
I throw away the bright rhythm and colors
And become my own unique shade
Of black.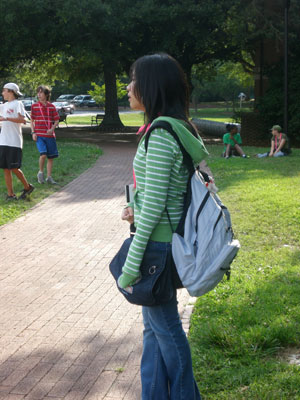 © Lucienne B., Parkland, FL