Wanderlust
April 16, 2012
I feel it in my soul,
This yearning,
Sending a shiver down my spine with each caressing breeze.
I see it in open plains,
On train tracks,
Sauntering from one rolling hill to the next.
Following a wooded trail,
Going only God knows where,
But isn't that part of the fun?
I feel it in the crisp, clear air I breathe,
Feel it cleansing and healing my heart.
If life is a journey,
Make it to uncharted places,
Wild and beautiful,
In the sway of nothing but the flora, fauna, and the stars,
Answering only to the call of all things untamed,
Untainted and pure.
I long to run,
To pack my most cherished items,
A photo,
My father's pocket watch,
My mother's old locket,
My brother's baseball,
Bundle them in a handkerchief,
Tie them to a pole,
And let the protests of my problems fade into the distance.
I want to dare the horizon to remain elusive,
I want to sleep in a tree,
Escape a train,
By dangling from a bridge, of course.
I want to feel the Earth under bare feet,
To laze about in a valley,
Napping among the wild flowers.
I want to walk along a dirt road,
The squealing singing of a harmonica my only company,
If I can learn to play.
I want to stand before a precipice,
A canopy of green below me,
Beckoning me to a future so uncertain,
But oh so wonderful.
I want to be free.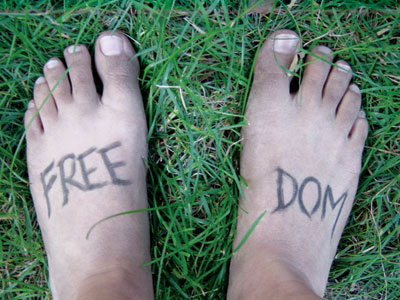 © Anna B., Northville, MI