A Day at the Movies
April 16, 2012
I walk into the theater
The murmurs of several dozen people ring in my ears
I flash my ticket to an employee
And I receive a cheerful, "Enjoy the show!"

I look around; the walls clothed by
Movie posters, showing off what Hollywood
Has in store for us in the future,
From the sequel to last year's blockbuster,
To another unoriginal romantic comedy,
To more films adapted from books.
In front of me are the concessions
The smell of salt and butter and movie theater popcorn fills the air.

I walk up to the counter,
And I see tasty snacks all around,
The red packaged Skittles,
Yellow boxes of Milk Duds,
And thinly-wrapped chocolate bars;
All begging me to buy them
And I say, "One medium popcorn, please."
The man hands me a red bag filled with deliciousness,
And I hand him several folded and crinkled bills.

I then walk down a long corridor,
Past theater after theater,
Each filled with different sounds,
From explosions to musical numbers,
And each showing a film I may want to see another day.
I enter the dark room; the only light coming
From a projected movie trailer
I find a seat
I find a comfortable position
I am ready for the show,
And I'm ready to enter a hidden world.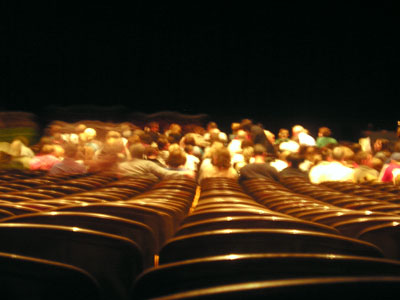 © Jessica P., Bethel Park, PA