Unanswered Questions
April 16, 2012
BANG!

My anger is extraordinary.
My pain is unbearable.
You're not here,
Truly, were you ever…?

At age one you left me all alone.
At age ten you were gone, never to come back.
You gave me your troubles,
You gave me your feelings of sadness.

RING!

I run to the door with my blue eyes shining,
Curly blonde lion mane swept back off my face
I scurry down the stairs in my innocent polka dotted dress.
Presents are sitting everywhere.
I start to open the pretty packages of your love.
Excitement runs through my veins.
They're from you so you couldn't have forgotten about me!
My little cupcake stained lips falter as I look down at the picture of your new family.

…

Presents gone wrong,
That's how the doctors explained it.
Bipolar, depression, anxiety, and many more.
Everything I have of you.
One thing though,
Dad, why didn't you give me your love?
Your compassion?
Why did you forget about me?

The tall, menacing doctors in their bleached white coats
And their large nametags proving them official
Insist that I need help.
My anger for you has turned into rage,
Bubbling inside me.
You're let off the hook,
And,
I'm stuck.
Stuck in the oddly printed, deceivingly comfortable looking chairs,
My back aching almost as bad as my heart,
While they toss around the word abandoned
Like it's volleyball,
Instead of my sanity that they are playing with.

Cold metal in your hands,
Shaking,
Scared,
Yet a sense of relief.

Cold metal touching your face,
Heart pumping,
Adrenaline racing…


BANG!

A gun fires and you're gone.
Why did you leave me all alone?
Why did you decide to be that selfish?
Was there anything I could have done to stop it?
All the things I will never know,
And all the things I would give my life to understand.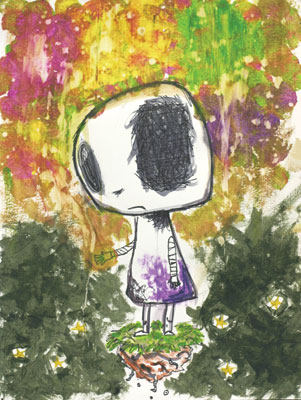 © Ashley W., Port Charlotte, FL