This Weight of Hiding
April 18, 2012
This weight of hiding
of sitting in this dusty, gloom
closet
rotting wood door
has never opened before
didn't know I was in
'til the decade had come
letting me blow out those ten candles.
this closet can't block sound
I hear all the things -
that I should be shunned.
even though they've already locked me in this gloom doom
closet
just like pressure in a soda pop can
hope is building inside this
dark, nasty, yet comforting
closet
the hope explodes with laughter
but it only, shyly, cracks the door.
the first face I see is a child hood friend.
I tell her my secret
my doom gloom secret
the one that has condemned me to hell
but the closet is a living hell
so I'm not afraid.
the pressure of hope still builds
slowly whispering out
like air escaping a hole
in a balloon.
my dear friend,
with the blonde curls
and the blue eyes
and the fairy laughter
hears me humming.
she is as dear to me as my sinful identity
so I tell her too.
Twice I've been accepted
I'm not so doomed
to this hellacious closet
like they've said I have.
so my next mission…
build up hope
build up even more courage
cut my hair
wear different clothes
take chunks out
of the door
one trusted person at a time
one friend that will love me
and last forever.
each time a little weight
is lifted
each time
my heart gets sweeter
no longer the gloom of my heart
but a light airy feeling
of
hope
courage
love for myself and others.
Thus beginning my life
in the light.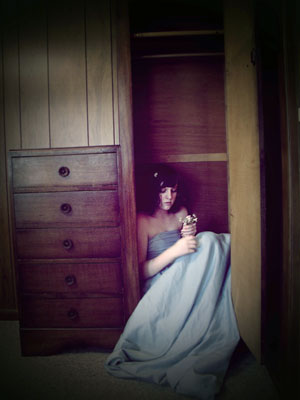 © London W., North Little Rock, AR