Never & Always
April 15, 2012
Thump, Thump, Thump!
My heart is pounding in my chest.
I can hear it hammering on my breast.
Those eyes.
Oh! Those eyes!
How they make me melt!
The irises are gray with a hint of dark blue.
How unique!
Every time he stares into my boring brown eyes
My stomach does a complete turn-over.
But, the sad thing is, I know he doesn't
Feel the same way about me.
At times, it seems as though he's head over heels for me,
But, then, I turn around
and I see him looking at another girl
The exact same way, if not, better.
To completely understand the feeling
of not being loved by the one you love,
Can only be discovered if it's happened to you.
I love him with every ounce of my being.
He is the sun of my tomorrow.
He is the life of my future.
But, at the same time,
he is moon of my yesterday.
He is the death of my past.
And I would never,
could never become a part of his world.
I will always be an invisible heart
scattered on his to-do list.
Never will he see, hear, taste, or touch my heart.
Never has and always will keep us apart.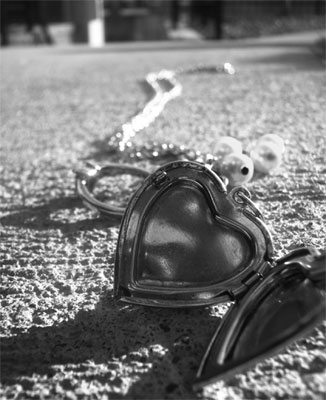 © Francesca Y., Robbinsdale, MN