I said I'm sorry then goodbye
April 15, 2012
I'm sorry you had to work so hard for me
so that I could have food in my mouth,
clothes on me,
and a roof over my head.
I'm sorry you didn't do it out of love
but because it was a government policy

I'm sorry you couldn't buy that pool table you wanted.
the money was wasted on my cheap bag and school supplies.

I'm sorry that he didn't marry you because of me.
and that my dad left because of me.

I'm sorry that you had to pay for my puffer
because of my frequent asthma attacks.
I have trouble breathing in your smoke
and I wont bother telling you about the smoke free policy
in our apartment.

I'm sorry that I'm so stupid in class
2 times 2 doesn't make much sense to me in high school.
and the teachers had to call you when I got into fights

whats that?you talked to me?
you called me Sandra, close,
but my name is Samantha
you got the "s" right "mom"

it feels awkward calling you that.
I don't know a thing of mothers love
but if it's telling your child that they are the root of all your problems
then I'm getting lots of "mothers love"

I'm sorry for everything
and for things I didn't do,
but most of all
I'm sorry i had to be born to you
so I'll take away your pain
even though mine is greater
you wont have to see me again
I'll be taking a long rest
don't worry about paying for my burial services
just burn my corpse
it's cheaper.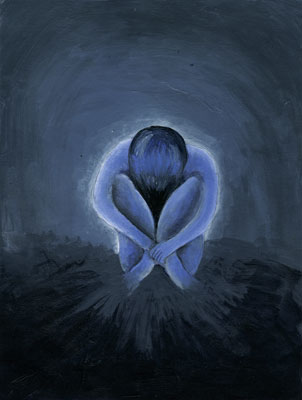 © Becky F., Sacramento, CA