Filling In Every Crack
April 15, 2012
I've been sleeping for days,
caught up in the beautiful absurdity
of the idea that maybe nothing matters.
Do you know what I mean?
I walk, I do what I'm told, but inside-
inside, I am dreaming,
walking on clouds
and breathing nothing but water.
And yes, I am drowning...
but I like it,
the soft coolness of the fluids hugging me,
enveloping me in warmth
and filling in my every crack.
Do you see what I mean?
The world is so much softer
when seen through rose-tinted glasses
and accompanied by music.
The sidewalks become paths,
every branch of this tree
blooming with possibilities.
Yes, dreaming is the future of this world,
this bleak, grey place;
it's the real meaning of life:
We live so we can sleep.
You know what I mean?
I think you do.
The corners of your suit constrict you, and really,
all you want to do
is lie down, close those sharp eyes,
dull your senses for a while
and live inside of your head.
You want that colour;
you want it, I can tell.
All these problems,
so big they demand press conferences and grey-toned papers
just for analysis;
in dreams, they seem like small wrinkles,
nothing
but
I've said it before
and this time you know what I mean:
We live so we can sleep.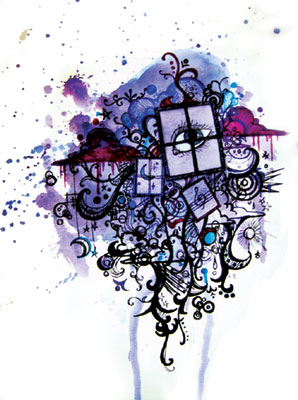 © Savannah R., Stoneville, TX