Beloved Little Angel
April 12, 2012
The first giggle of a baby's laugh,
They say a fairy is born.
This little fairy wasn't born.

I arrived at the stench of death,
Following the little squares of
Yellow, blue and red.

These little colored squares
Lead me to room 214.
I saw a little fox above those numbers,
A fox with saddened eyes.

The door opened with
A little creak of a sound,
It was silence.

"Do you want to hold him?"
As I looked at her she maintained
A strong, positive woman,
With a smile across her face.

Looking into her eyes
You see the pain within,
You can see the dry tears.

I reach for the precious lost soul,
The coldness of his diligent skin
Makes me shiver.

I carry his little body,
7inces, wrapped in my arms
Pressed against my chest.

I stare at his closed purple eyes,
Blue highlighted under his
Long black eyelashes.

I stare at his lifeless soul,
Wising it was all a dream,
Hoping his little closed eyes would open,
His little hand would hold on to my finger.

As I stare,
Finger tracing his cold chubby cheeks,
His little nose with one nostril,
A tear escapes from my watery eyes.

Knowing my baby brother will
Never open his eyes and hold
On to my finger and smile,
I'll never here his first laugh.

A waterfall descends from my eyes,
Surrendering tears, falling on to
My lost beloved little angel.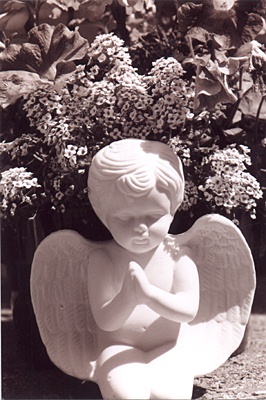 © Laurie T., Hopkinton, MA