What to write?
April 9, 2012
You can write a poem about anything, I swear.
Write a poem about the follicles of your hair or
What you'll do if hard work gets you nowhere.
Write a poem about your ceiling fan and
How at night you just know that thousands of little slimy green aliens watch you from it.
Write a poem about anything.
about how the ingredients to your pillows make you feel like you're resting in a bed of weeds that
prowls the desert at night like a hyena bed.
Write a poem about how your white wall paint reminds of vanilla ice cream and how you feel that if it were just a little warmer it would leak all over you and stick to you and you'd lick it up.
Write a poem about how you feel that if you part your curtains in the morning and look out your window you just might see the other side of the rainbow with its
Bright colors and gold chests and leprechauns sliding down the end.
Or better, yet, write about how sometimes late at night when you're
half awake but mostly asleep, you can't help but notice the two invisible things playing tug of war with your eyelids, and it makes you laugh.
Laugh like a lunatic while you still can,
Because one day laughter might be taken from you in the night by a thief,
and you'll awake one morning to find
a horizontal ruler stapled to either side of your mouth.
Better to be safe than sorry.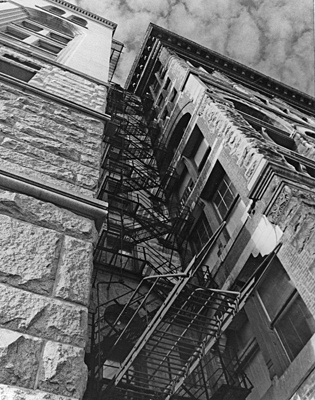 © Eric H., Lafayette, IN