World of Vivid Hues
April 11, 2012
Awakened by the day's cheerful sunlight
Spent time, tired my eyes 'til twilight.
I saw worlds of adventure
Worlds of scenic bodies.
They spoke words of the clever
They wore fabrics of treasure.

They did not seem to move.
They are dolls who smile
Who blinked for a while.
But there is something in their eyes.
Eyes that speak.
Eyes that keep.
They tell stories
With their mouths shut.
A stick, a broom
Skies behind them that gloom
Daffodils, others hold, that sway
The sweetness their smiles convey.

They have neighbourly hearts
They sing lyrics of no tarts.

Painted by vivid hues
I remember one of them wore trews.
I conceive their images in my head
They are mostly gold and red.
The memories are lasting.
Indelible.
Magical.

Made my eyes exhausted
But made my heart delighted.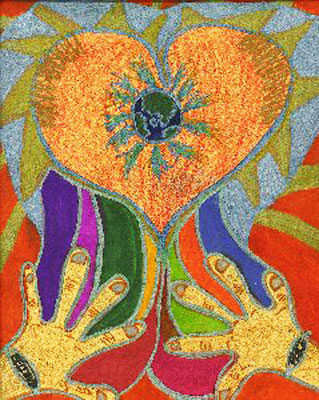 © Amanda P., Clermont, FL