Burning from Love's wicked touch
April 11, 2012
Moments of anger, a touch of revelation,
The heart chants love's strenuous incantation,
Emotions struggle through jealousy's sudden palpitations,
Yet with his faithful authority, you never cared for another companion.
An ivory veil hides the sudden grimaces of doubt and sombre melodies,
The tiara perched carefully, amasses glory from those dark, velvet waves,
But still hold a mocking gesture, daring those who desire to enslave;
The soul of this cruel mistress.
Oh, the eyes, each one a different story it seems to tell,
Yet the tale does not wish to be told,
To the cunning hearts of deceivers whose ears are far too sharp,
Who pretend to share your sadness, yet a certain menace tinges their manner,
The once teasing pout is now an ugly red scar, an old comrade now stone cold,
Crippled by its vanity, it wishes to never perceive the truth,
But as decrepit as it seems, it reflects those past days of youth.
Ivory, embellished with fraying lace and withering flowers,
Now wispy as the tendrils of envy, frail as a house of cards,
Marvellous on construction, yet one sly breath leads to eternal destruction.
Ropes of memories that she seeks to forget,
But burdened with her past, they still yearn to torment,
Every single thing that belonged to him, bring pain in fresh explosions,
Overlapping the past raw wounds, nourishing them with the poison of salt.
But why does she shed tears for him, when she never knew him?
Why does she cling on to his presence, not wanting to let go?
She observes from faraway, his perfect features, his soul,
Yet why does she never move on?
It's a strange land, one of constant mystery,
And we mortals in all our stupidity,
Do stupid things,
All in the name of –
LOVE….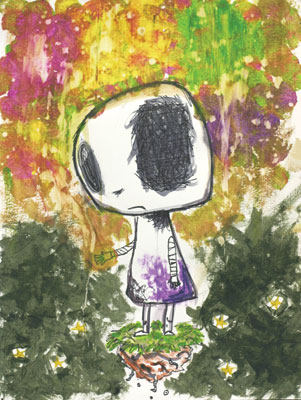 © Ashley W., Port Charlotte, FL