Tangled
April 8, 2012
Gossamer threads,
As thin and fine as silk,
Connecting me to my mind,
Barring the path of insanity.

Wrapped and twisted
In all ways possible,
Hopelessly tangled and intertwined,
They make up the never-ending maze
That is my life.

I attempt once more to navigate
Through the mind that is mine,
Yet so unfamiliar
And find the way out,
But I get tangled
In the web
That the spider has
Meticulously spun.

I thrash about,
But the more I struggle
The more I become tangled
In the bleak hopelessness
Of myself.

Tripping over my own faults,
I ensnared myself,
And did not even realize
That I was trapped
Until it was too late.

Now I wander aimlessly,
Gazing into the dark crevices
Of my mind,
Searching in nooks and crannies
For what is missing,
And not finding the thing I cannot even name.

I dodge rifts,
And leap chasms,
Trying to find what
I have never known,
Never seen,
Never thought of.

My quest
Is pointless,
For how can you find something
When you don't even know
What you are searching for?

This I understand,
Yet I still meander on,
Hoping against hopes
That it will appear to me
In a flash of light
And lay down at my feet
A golden road,
A better path,
Or at the very least,
A place to escape
From the insanities of the world.

I seek everything,
Nothing,
Something,
For I cannot even begin to fathom
The world and its mysteries,
Or why my own mind can seem
So strange to me.

I could sit and ponder for hours,
And still have no answer
To the questions
Why me?
Or
What happened?

Many days I give in
And stare at the blank wall,
And wallow in the deep
Filth and mud of self-pity.
I try to block out my thoughts
With blankness, numbness,
Nothingness,
But there is always
The raw pain of existing
Throbbing in the back of my mind
Like a self-induced migraine,
A punishment that has no escape.

The threads fray
With each passing moment,
Rendering me insecure,
Fragile,
Terrified,
As if the Fates
Are bearing down on me
With their dreaded, vile scissors
Strengthened by the suffering and pain of others
Into indestructible icons
Of catastrophe and doom,
Waiting for a moment of weakness
In which to lunge for the kill,
And add yet another trophy
To their ever-growing collection
Of drifting souls.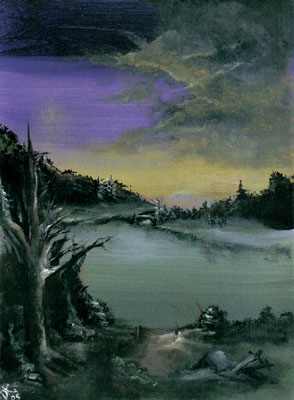 © David K., Birkenhead, UK