Butterfly
April 6, 2012
The wooden arch holds my weight as I stand upon it
The fears I once felt when I was five rush back,
but vanish as I reach for the moon that saved my life.
The wood creaks beneath my feet as I pace,
clearing my head from the thoughts that
force me to reminisce my past.

I suddenly find myself on Memory Lane,
watching my five year old self trying
to catch the butterfly that flutters from her grasp.
She stands on a newly built bridge that cautions her safety.
But she doesn't notice and keeps chasing the beautiful-winged creature.
Without warning,
her five-year old feet slip on the bridge that stands above water that seems
deep, dark, and dangerous.
Bubbles escape from her mouth as she tries to scream.
I see her shut her eyes,
and wait for the promises of rescue.
She opens them and a circle of bright light catches her eye.
It builds hope inside me and I see her focus and swim towards the circle.
Her hand reaches out and tries to grab it.
However, the light deceives her and leads her to grab something else
instead.
I see her breath escape from her lungs
as she pulls herself up to the surface. She chokes on the remnants of the
water that asked and threatened for her life.

Now, as I stand upon the same bridge,
I look at the moon, the circle of light that saved me.
I stand proudly, realizing that this bridge symbolizes
the fear I once held inside me and
the fear to overcome it.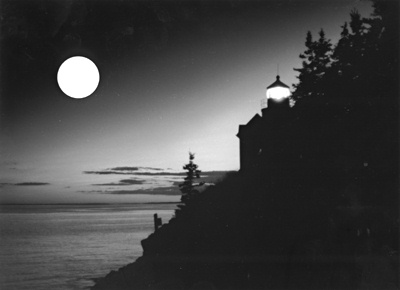 © Steve S., Marblehead, MA