The Uknown Beauties
March 22, 2012
What mystery calls my name deep within these woods?
I sing softly like the wind that whistles through the trees.
Dancing in the shallow river as it inspires me to keep moving forward.
Why does this quiet forest draw my attention?
Is it my imagination or lingering hope for something undiscovered?
Maybe I feel trapped at home or maybe I just want the last of the summer breeze to enter into my lungs.
Peering around branches and kicking the water with my bare feet, I feel free like nothing could hold me back.
A small trail led before me, curiosity took its course.
What unknown beauties lie ahead of me just down this un-walked path?
I embrace the moment strolling down this small dirt road taking in every bit of detail.
The trail ends, and a large wall of bushes keep me from moving forward.
Moving past the wall I see a house, a wooden one.
Small and delicate the house beckoned me forward.
I gracefully look up at it wondering what kind of happy life that someone lived in that little house?
Is this house a symbol or a sign? Something that is pointed out to me to see the creativity and wonder in each and everyone's lives?
Maybe this little house shows me just how unique the quite world really is.
To some people things stand out and have a deeper meaning, they are more then what they appear to be.
To others this is just a house deep within the woods but to me it is much more.
Everything has a defined purpose but it is your decision whether or not to seek out its beauties and perfections.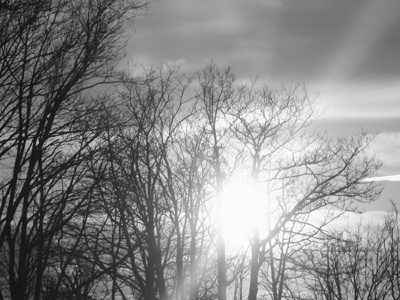 © Emma C., Gardner, MA