There is love
March 15, 2012
I close my eyes
Just to see you.
The scent of dirt and sweat
And trees and broken grass mingle together
Creating a sweet, familiar and harmonious smell;
Your scent.
Your silence haunts me
And still I struggle for you.
There's love burning to find you,
Will you wait for me?
My hand reaches toward you,
Longing for flesh and cool comfort,
Finding only emptiness and space.
My nerves erode away my stomach
And I can feel that you're here.
Am I mistaken? My eyes open,
Troubled and confused, seeing only a vast vacancy.
My brows knit themselves together
Bringing an uneasy comfort in sightlessness.
I see who you are, what you are,
I hear the gently whispered words from your lips,
I smell the ever soothing scent of Wild,
I feel the cool easiness of flesh that is your skin.
A smile caresses my face and floods my being with
Warmth and I know I am not mistaken
And you are by my side.
"You know me,
You know me all too well.
My only desire:
To bridge our division.
Sorrow; I speak your name
And my voice mirrors my torment!"
His voice is smooth and hard, like frozen cream
And filled with a multitude of emotions
Ranging from disgust to pity, and hatred to love,
from repulsion to obsession.
I open my eyes, longing to see the
Man I summoned,
Only to be filled with an overwhelming
Sense of failure, of loss and brokenness.
Memories of happiness and past lives
Re--present themselves in my mind making me choke on sadness.
Emptiness fills me as realization that everything
I've ever known has passed on, leaving me behind without him.
"Even through the darkest days this fire burns."
He holds his hand to his chest motioning
His heart.
I cry out with a yelp, knowing
All I'll see and hear and smell and feel
Is the chost of the man I still love.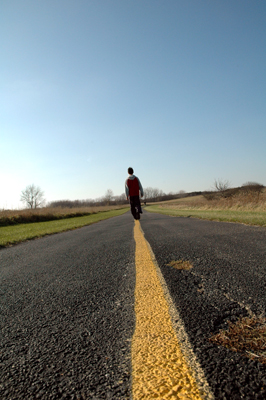 © Seita O., Palatine, IL