Falling Memories
March 13, 2012
I close my eyes and I begin to fall.
This new light begins to engulf me.
I find that the deeper I fall
this light is turning darker.
My surroundings are fading
from my sight.
I begin to wonder if I scream
if anybody would hear me.
Out of nowhere somebody says
don't scream, just remember.
I blink a little stunned and that's when it starts.
I find myself not falling, but sitting now.
Still in the darkness.
And like that of a thousand dreams all at once
I remember everything.
All the memories of us when I was a child.
I begin to cry.
I want theses times to come back.
Then it ends; suddenly I'm falling again.
When it stops, I slowly open my eyes.
I look around and I find myself laying
in your arms and I cry once again.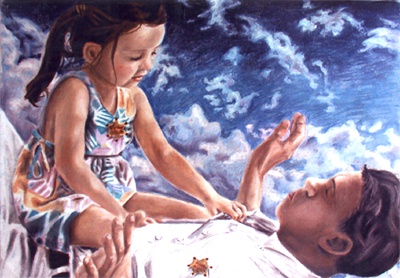 © Meg Sullivan, Andover, MA