When the Snow Finally Melts
March 21, 2012
When the snow finally melts, there's so much to see!
Every rock, every flower, at the base of every tree.
And then when the sun comes up, it feels so great to be…
Lying in a sunny hammock, all filled up with glee.
Good morning sun, Good night moon, here comes another day!
And now and then I'll get a wee bit bored and think; "I should play!"
Friends will come, and we'll all go to put away our sleighs,
Because now its spring,
A wonderful thing,
That cannot be delayed!
We'll take some balls, listen to the birds call, and play "the beautiful game"
We pass, We shoot, the ball flies from boot to boot,
I'm so glad we came!
We lose track of time, every day so sublime, and eventually I'll exclaim;
"It's summer, Oh summer, the sun smiling down,
Blazing his heat for miles around.
Some may complain, and some may frown,
For the heavy heat comes beating down,
And when Mr. Sun shows his face,
There's no spot nicer than my little place.
Back in the woods, past the old man's shack,
Into the woods, you can't go much further than that.
And there in the shade lies my little place,
On a rock, On the banks, where the willows interlace
The leaves and branches cradle me in their embrace.
It makes me content, just to relax in the shade,
But I still miss my friends, it's felt like a decade!
So I tromp on back, to the place we all play,
And they smile and say;
"Where were you?" "We've been here all day!"
As the days start to cool, you just can't refuse it,
It's autumn, it's fall, the wonder of it all,
But it's getting cold now, so put away the ball.
And now, last fall I recall,
It's back to school, and teachers and roll call.
It's getting colder, we should put on some layers,
But we don't get cold, 'cause we're soccer players!
Out in the cold and the rain and the breeze,
We don't even care, as we run through the trees.
All the other children are knocking their knees,
But we run about, wherever we please.
Then soon comes winter, and it really gets quite cold,
Undeniably so, even we give in, and we're really quite bold.
So we put on our jackets, and put on our warmest pants,
And go out to greet the snowy world, in all its great expanse.
We'll pull back out the sleighs, and get ready for winter fun,
Because boy oh boy, oh boy oh boy, we hope it snows a ton.
And eventually, the snow will come.
When it comes down, like little flakes of happiness,
We'll all gather with our friends, and finally address,
The fact that snow has finally come.
The plants and trees look so astonishing,
Covered in their heavy white blanket, oh so different from spring.
We trudge through the snow, to the top of the hill,
Here we go, It's sure to be a thrill.
We slip, we slide,
A wonderful ride!
We form balls of snow,
Throw them to and fro,
And when you get hit,
It feels like you're bit, by all those little pieces of ice.
But then sooner than we know it,
Nature begins to show it,
It's getting a little less chilly,
On the pond, we can see all the lilies!
It seems that spring is coming near,
Hooray, Hoorah, Hooray, we cheer!
And as the snow starts to disappear,
We're all so happy, because once again, spring is here!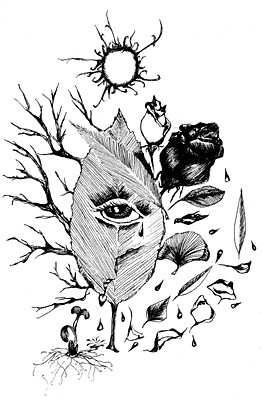 © Cara L., Cheney, WA