String of Pearls
March 25, 2012
I open my book as I come across
the first page….
Crashing along the ocean, the waves
signal to me; beckoning me to come
closer. I listen, every step I
take brings me closer and closer to
the tempting mystery. I stop
at the edge, thinking to myself if
I should jump in. My thoughts
get the best of me as the strong
waves pull me in without me
knowing. Twisting and turning, I
struggle against the dominant
waves. After several minutes, I
surrender; letting the waves
control me. They lead me to
a underwater cave, the
daunting darkness collapsing on
me. Heart-broken, the
waves push me in, leaving me
behind like dust. Standing
before me, a string of pearls shimmered;
the glow almost blinding my
eyes. I scooped them in my hands;
letting the murky sand fall
between my fingers. As I let out a
weak smile, the waves come back;
dragging me back to shore. I
plop down on the cool sand and dig
my toes into it; letting my
worries drift silently into the cruel, mysterious
night. A rush of exhilaration interlaces
in my heart; an enchantment of lush, sweet
tunes flourishes in the serene night sky
as I quietly close the miraculous, captivating,
breathtaking… book I have yet to compare
to.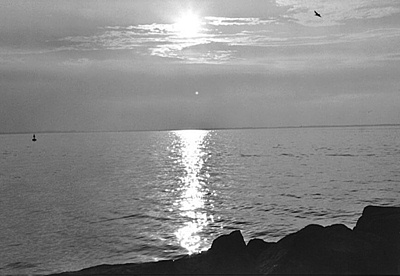 © Amanda L., Cumberland, MD