Nightly Routine
February 20, 2012
Getting ready for bed
Brushing your teeth,
Making the last resorts
Shuffle, Shuffle, Shuffle
They don't notice.

In the rainy night
Demons whisper
Creak, Creak, Creak
Seeking for what they need

Crawl into bed
Glancing around
Raining
Turning off the light
Cover your head with the blanket
They don't notice.

Tick, Tock, Tick
Don't notice
Don't notice
The creaking down the hallway

Close your eyes
Hide under your covers
Pray he doesn't find you
Rumble, Rumble, Rumble
They don't notice.

I can't see you
You can't see me

Falling asleep
Your silent exhales
Zzz, Zzz, Zzz
The gentle snores
Are music to their ears

Hey, are you taking your medicine?
Your eyes are distant
And far away
You are empty
Drawing abstract pictures on the wall
Scratch, Scratch, Scratch

Taking shelter in a nearby home
The owner doesn't seem friendly
They see it
How he disappeared
They don't notice.

The demons
Creak, Creak, Creak
Holding their stomachs
Close your eyes
Laughing
It's so fun

Why
Why can't you leave us alone?
Just let us laugh until daybreak
Ha, Ha, Ha
They don't notice
Don't let them notice

I hear them
Tears that spill
Through my fear
Don't notice
I'm hidden

"Hey, this one is over here!"
Oh.

They noticed.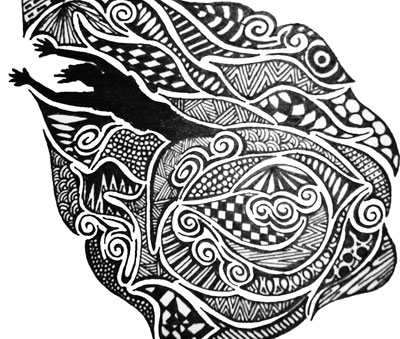 © Caroline B., Haworth, NJ