Mystery Guy
March 8, 2012
His hair was the darkest brown I have ever seen.
His large eyes a magnificent brown, with long eyelashes.
His lips looked soft, warm, and with color from the blood coursing through his body.
His chest broad from being in almost all sports at school.
He seems tough but I know he's a sensitive guy.
His hands are fairly large but very gentle; he wouldn't hurt a single butterfly.
But I don't get it, he's got the looks, the kindness, yet he doesn't have any friends.
Everyone wonders how he's like and what he does.
During lunch, I see him sit against the wall in the school courtyard.
He always has his IPod with him, listening to music.
I wonder what he listens to.
He doesn't eat lunch, only sits, listening to music, and watches people go by.
Perhaps his looks intimidate the people around him.
I refuse to listen to any rumors that are about him.
Because I don't believe them.
Because I know he's not what everyone thinks.
Because he doesn't deserve to be talked about badly.
Because, because, because, I admire him.
I walk up to him during lunch the next day.
I stand before him, looking down at his head full of dark brown hair.
He glances up, looking at me with those large brown eyes, and pauses the song that he was listening to.
I sit down next to him.
We talked.
He was no longer a mystery guy, but my new friend.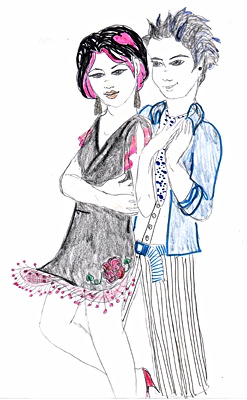 © Liza M., Vineland, NJ