Broken Soul
March 9, 2012
If I did not love so deeply and deadly, then I won't be broke by his words.
I know since the beginning that our love is wrong,
But I still crave the touch of his hands.
I know he don't love me like how I love him,
But love makes me blind and greedy.
It's no longer enough to stay by his side in silence.
I want to tell just how much my love for him is.
I want he hold me, think of me, and sees only me.
Yet, I know it is but a dream that will never come true.

He's a bird that I cannot bind on the ground.
He's the ocean that I cannot stop in a simple container.
He's the one and only to make me losing my mind like this.


Oh God, I can't stop crying.
Now I want to be love but no longer can I love anyone back.
It's selfish, I know.
No one can promise me a forever, yet that's all I want.


I want to leave the world behind.
Living in a house alone, crying my heart out.
I'm sad and lonely, but the pain won't stop.
It won't release me.

Who can give me a place to live?
Who can give me a hand which I crave?
Who can give me an ending to end?
Who, oh, who?

My soul is broken.
My heart is in pieces.
He still live the normal life like everyone, yet only me stays in this bottomless hole that's called Darkness.

Oh please oh please!
Give me a house and let me be.
Give me an end and let me sleep.
I am broken. Broken and in pain.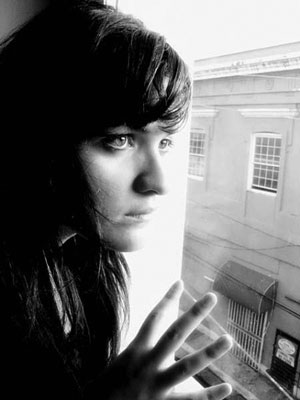 © Eveliz V., Bayamon, Puerto Rico