Life Without You
March 8, 2012
I wish I could have you back in my life
You meant the world to me
Now you have turned into my hell.
I have never fallen for someone so hard
I still care for you and always will.
No matter what you do
I will always be there for you and only you.
I am happy if you are happy.
I say that I am over you,
But deep down I know I'm not over you and never will.
I feel lost and you are the only one who can put me back on track
I don't want to live without you close to me.
I miss you so much I can barely stand it knowing that he is holding you
And I'm not.
I'm at my breaking point.
Life is not worth living without you
That night at the fair on the boardwalk
We fell in love again.
We held each other for so long it felt so right
I felt like I might float away
Then you kissed me for the first time in at least 6 months.
That was the highlight of my summer
You texted me while I was on vacation
When you told me who it was.
It put a smile on my face that I couldn't get off
I miss you so much.
I think about what could have been if you had stayed with me
I read your notes every night they bring me to tears.
Everything you said to me and you still leave me
For him.
I don't know what I did wrong you just up and left me
You hurt me so bad when I found out you had dumped me.
I don't want to see you again for fear all my pain will come back
I could have asked for nothing more from you.
You were an angel to me
Nothing can change my feelings for you.
I will always love you
You made me so happy while we were together.
Life was great when you were with me.
At homecoming you went to the dance with me
One of the best nights of my life.
You felt so right in my arms
I wish I could go back in time and re live the time when we were together.
But I forgive myself
So I could forgive you for what you did.
I'm always going to be here for you
I will be waiting an till the day we can be together again
The day I long for so much.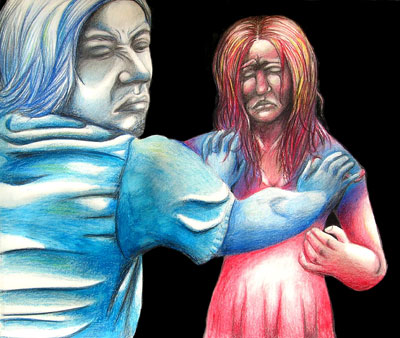 © Jessica P., Bethel Park, PA