First Kiss
March 9, 2012
The sun was setting.
It was a beautiful sight.
The warm colors of red, orange, and yellow.
I walk with you, hand in hand, along the warm white sand.
The water tides coming in and out, licking the sand.
The water is crystal blue like the beautiful ring you gave me for my birthday.
While we're walking on the sand, you look over at me, and I smile at your handsome face.
You smile back and say I love you.
I say I love you too.
You stop walking and then you take a hold on my shoulders.
I look into your sparkling green eyes, very alive and deep.
You lean closer to me, placing your hand behind my neck.
My hands are on your chest, feeling your heartbeat.
I feel your warm breath against my lips.
I close the gap between us and place my lips against yours.
It felt like two firecrackers crashing into each other.
Your lips were warm and inviting.
The kiss was intoxicating.
We keep kissing, as the sun is setting over the waters.
The colors of the setting sun will always remind me of our first kiss.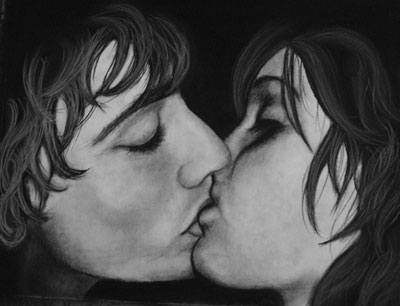 © Anna Y., St. Robert, MO