Diana
March 1, 2012
I am merely a footnote on the epic story you are,which sits perfect and fine with me.
As long as language exists I will speak to you the truth,and as far as the sky one can see,
from the Earth's soil to the realmless above your name will be seen and invoked.
The faithful love and selfless acts cynics doubt is, I can swear, in existence and fact.
Yet write you I do as my adoration blossoms as if you planted a flower where my heart belongs
as if you were an epic written, a demigoddess
with a tale that's worth was beyond the stars.
My mortal love becomes immortal and remains unmarked
As your smile and laugh becomes
a cushion for the sun; like I could lay upon it and sleep. I'd add my thanks for you by greater means
but that may be wrong. You'd only wrinkle your brow,puzzled, entirely unconscious of behaving
in your remarkable way towards who I am. I haven't acted well, or even at all to whisper
the truth to your heart that resides in me,For in multitudes our truths are likened to each other.
Your nature expressed itself with such grace and spontaneity as a miraculous goddess while
mine became a speck of dust with no true sparkle as you.
I stand here on the Isle of loneliness,
surrounded by me own sick observations.
Yet I think of you, and my eyes see
the ocean of blue magnificence.
My being brims. My eyes brim, and my heart brims over the cup of adorations.I send love and praise that may last a thousand
years to come.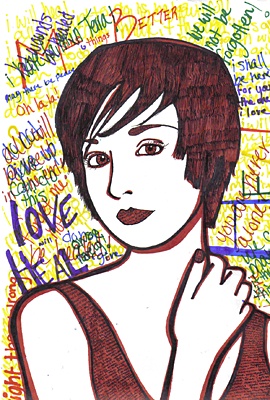 © Sara D., Aiken, SC