Ode to My Lamp
February 29, 2012
(for Pablo Neruda's "Ode to My Socks")
My cousin got me a lamp
I bring him to my room
He sits on my desk comfortably.
When I tap his head gently,
Suddenly a beam of light
Emits from his bright and piercing eyes
And lightens everywhere in the room.
Everything in my room
Seems to be alive and full of vitality.
My body is surrounded by
The tender lights,
And seems to be a little puppet
Which allows my lamp to play arbitrarily.
When everything around my lamp
Turns golden,
My lamp becomes
The most amazing magician in the world!
When he is bursting out his radiance
He looks like a lighthouse
Pointing direction for the ships in dark.
He seems to have selfless dedication
And never asks for anything in return.

The moral of my ode is this:
Bright is golden bright
And what is gorgeous is wonderfully gorgeous
When it is a matter of
The most brilliant lamp in the world!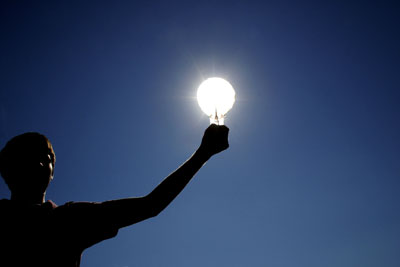 © Ty B., Oak Bluffs, MA