Heart
February 10, 2012
I love how you dance around,
Choosing random songs and jamming out to them.
Even though you look like a fool,
I think you're a rock star.

I love how you shake your head,
Your hair sweeping off in all directions
Like rays of sunshine...
It lights up the room even at night.

I love the way you look at me
With that twinkle in your eyes,
Like you're telling a really funny joke
Or letting me in on a secret.

I love the way you laugh at what I'm saying,
Even if I'm really not trying to be funny,
Without making me feel like an idiot...
The way your eyes crinkle up at the corners
And the way your voice bursts out in peals of laughter
And your shining hair moves a little
And you glow all over.

I love the way you always know what to say,
No matter how weird whatever I'm saying is,
No matter how sad or happy or surprised...
Your reactions are always spot-on,
Always perfect.

I love the way you always crush me a little when you hug me.
I can still feel my ribs a little compressed for minutes afterward,
But not as much as I feel the huge grin on my face.
It's almost like you don't want to let go.
I know I don't.

I love the way you hold me tight.
I feel so safe and secure and snuggly in your arms,
Like a suit of armor is surrounding me.
A teddy-bear suit of armor.
Your muscles are built just right,
And I fit perfectly in your embrace;
My head is molded to the hollow of your neck
As though we're a matching set
Feels like I'm in a little bubble
Just you and me.

I love the way you're always there when I need you.
But you're gone sometimes too,
And then you're the only thing on my mind.
When I can't stand being apart from you any more,
You pop in at just the right moment
And I can feel my heart leap.
No one's ever made that happen before.

I love how you taught me a whole new feeling,
Where I'm suddenly conscious of every heartbeat,
But not just my own.
I feel my heart beat connected to yours,
As though there are little invisible strings tying us together.
Heart strings? Maybe.

I don't know the exact word for this feeling.
But if I did,
That's how I feel about you.
You just don't know it yet.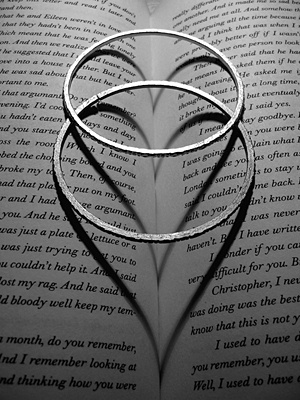 © Julia K., Old Tappan, NJ