My Savior
February 10, 2012
Tucked tightly into a ball,
My body shaking,
Tears threatening to escape,
Darkness encloses around me,
Only one small light,
Calling me by name,
"Stand tall" it says,
"Be you and fight",
The tears are gone,
But I cannot move.

A hand on my shoulder,
Helping me rise from the darkness,
The light encloses me now,
So bright,
I can hardly see,
It feels warm,
I enjoy the light,
Making me feel good.

"Why are you sad" the voice asks,
"No one loves me" I reply,
I can feel a head shaking,
I'm quickly moved to a scene of people sobbing,
All dressed in black,
I see my body in a casket,
I see friends and family,
All sobbing over my cold blue body,
"They miss you."

Moving from person to person,
I see their thoughts,
All sad and depressed,
But one person stands out,
"I want her soul" their thoughts scream,
No one else see's this monster,
I try and scream,
Trying to protect my soul,
The monster reaches me faster than any human,
"She will be mine now",
I start to cry.

My body gone,
I am no longer myself,
I can feel everything the monster is doing,
He moves my dead body to the fire,
I'm burning,
Flames licking at my dead body,
I try to scream but nothing comes out,
I'm dead,
No longer in control.

Only to wake up drenched in a cold sweat,
I cry once again,
My mother comes in to comfort me,
"Why are you crying baby girl" she asks,
I shake my head,
"I love you." I sob,
"I love you too baby girl go back to bed."
Laying back down,
The lights go out,
But I still see the small light.

I run to the light to see my savior,
But all I see is a man with his back turned to me,
"Thank you" I whisper,
"You are my child and I will always be there for you,"
"To fight your demons and make sure you are safe."
The man turns slightly but I am once again in my bed,
The man in white,
My savior.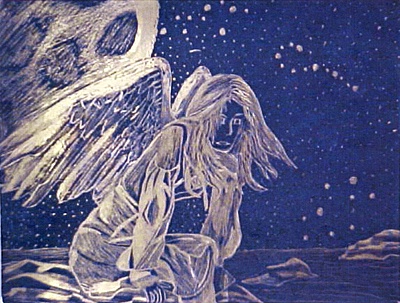 © Kaylen C., St. Clair, MI