Our Mother In Nature
February 22, 2012
Listen to my words,
For there is a story within them.
A story about the loving mother we found.
She handed us our freedom after a long day at school.

We would throw down our backpacks,
Ignoring our homework,
And run outside to the Woods behind our houses-
The Woods where anything could happen,
The good things or the bad.

She welcomed us with open arms,
For we weren't the ones who destroyed her and hurt her.
We marveled in her,
Making her new and beautiful in our young eyes.

The old trees,
Drab and dormant in the winter,
And full of green life in the summer,
Joined in our healthy laughter,
And provided cover from the scorching sun on the hottest days,
Or the blistering winds on the coldest.

We jumped the ever changing and sometimes flowing ditch,
Careful to make it safely across- otherwise we might "die".
The rich, earthy scents mix with the onion grass, and a hint of decay, Though not nearly enough to hinder our love.

In the winter she was bare,
Her branches would fail under the strong hands of the snow.
We built our forts then-
When the branches were free,
For we didn't want to hurt her.
Every week the forts would grow,
Rooms became apartments, and apartments turned into fortresses.

Throughout the summer she bloomed,
Showering us with fresh trees and empty spaces to decorate.
She grew onion grass for us,
And we brought action to her small, private world.

We played, and danced,
And laughed, and sang,
And I tell you this-
It is nothing now what it wasn't then.

The difference isn't in her,
But in me.
She has always been the same,
But I have been the one to grow.

I stopped seeing her beauty,
And grimaced at her flaws.
As this happened ,
She became smaller and smaller.

She would not accept me into her nooks and crannies any longer.
I saw the trash, and filth that I was always able to miss,
And she noticed that I was no longer naïve.

This is the grief I show you-
I wish her arms would open to me,
And show me their beauty,
So that I may once again be a child,
And let my imagination run wild.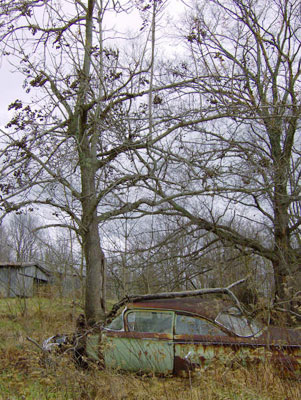 © Kimberly H., Summer Shade, KY