Fabrication
February 15, 2012
Nobody gets in my way,
and you don't mess with me.
Ever.

Why?
I'm just stubborn. That's why.

I don't stop until I get what I want,
but if you want to stop me,
I'm just going to have to give you "the look",
and you better back off, or else.

You don't dare insult me either.
Don't even lay a hand on me.
You don't want to know…

That's just the way it is.

I go by my own rules,
and I don't listen.

You can yell at me all day,
and tell me what to do,
but I won't even stop to try
to pay any attention to you.

I won't even stop to see the anger steaming off your face.

If necessary, I'll break the law.
The police will come for me,
and the FBI, too.

It'll be so bad, the CIA
and SWAT will be tracking me down.

I'll be a wanted thirteen-year-old girl.

If they catch me,
they'll have to put me in shackles
with extra, extra locks,
so they know for sure I won't breakaway.

But, of course they're
wrong, wrong, wrong.

They don't know the few tricks
I've got up my sleeve.

I'll escape the shackles
with the extra, extra locks,
and sneak past the police,
FBI, CIA, and SWAT.

The best part is,
I'll be doing all that
before even reaching
juvenile detention.

Except that…there's a problem.

You see, the truth is – I can't do that.

I can't break out of shackles
with extra, extra locks
before arriving to juvenile detention,
so I won't be stuck in that spot.

I can't escape law enforcement,
or even have the police,
FBI, CIA, and SWAT come after me.

I won't even try breaking the law.
I'm not even stubborn half the time.

Oh well, I'm sorry I had to ruin all the fun.

There's only one real piece of truth here:

This is an
absolutely,
positively,
excellent misleading –

Fabrication.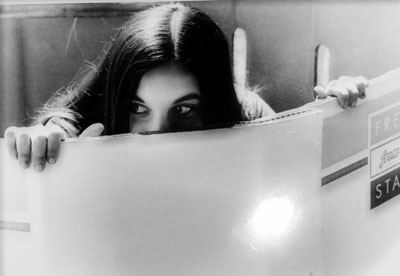 © Sarah S., Winter Park, FL