Precious Lifewater
February 8, 2012
There I sat, waiting, staring at that clock as if I were waiting for it to do something spectacular. It had been three dreadful hours since they wheeled his unconscious body through those white double-doors. I grew more and more impatient with every passing second. It almost felt as if I was frozen in time and the secondhand on the clock was the only thing exempt from the spell. With every hollow-sounding heartbeat that ran through my body, I knew it was one more he may never feel. Then it came to me. The thought I had been trying so hard to block; the wreck.
It was just four hours ago when we hit that eggshell-colored interstate barrier that sent him flying through the windshield of our rust-covered Ford pick-up truck. He weightlessly flew through the air for what seemed like several minutes. Then, as he crashed back down to earth landing in the path of on-coming traffic, it sounded like every single bone in his delicate body snapped effortlessly. Since my seatbelt was on, a couple of bruises and a bloody nose from where the airbag exploded out of the dash were the extent of my injuries. I struggled to open the crushed door. From the outside it looked like a paper fan. His life was draining. I gave up and drove through the shattered window that left tiny diamonds forcing their way through my flesh. I jumped over the barrier, kneeling at his side and causing the speeding traffic to swerve around me. I felt for his pulse. It was there, but quickly fading. I pulled out my iPhone and touched the number 9-1-1 on the cracked screen. When the operator answered I couldn't speak.
Then, a recently washed, black Cadillac slid to a stop just inches away from his blood-soaked head. The driver was a woman in her mid-forties with a gold cross draped over her neck. She ran over with a horrified look on her face and took the phone from my violently-shaking hands. She told the operator what I couldn't bear to. As I heard those panicked words escape from her mouth, it all became real. Right then, this nightmare became my reality. With every desperate heartbeat that shocked through his fragile body, more life water poured through his open gashes. I just sat there and stared at him, speechless. Here, the love of my life lies. The only thing that's keeping him alive is draining from his wounds. His favorite shirt is drenched in blood. He's silently sleeping in a sea of red.
As I sat there I thought of all the things we would never get to do. The list was endless. Within twenty minutes a helicopter landed in the middle of the interstate. The propellers created a strong wind. They scraped his body off of the warm pavement onto a stretcher and loaded him into the helicopter. I jumped in with him. "Jordan? Can you hear me?" they shouted. They stabbed him with different sized needles to perform different tasks. They hooked him up to a heart monitor. They turned the screen around so I couldn't see him dying. Within fifteen minutes we landed on the roof of the hospital. They unloaded him and took him straight into surgery. Five hours later, they came to me in the waiting room. I was sitting there spinning my beautiful diamond ring around my finger. They heartlessly told me the news that destroyed my life forever. They said he had lost three pints of blood and there was no way of saving him. To them, he was just another patient, just another chunk of their paycheck, but to me, he was everything. As i slept in bed that night all I could think of was that my prince was sleeping in a cold metal box in a morgue. That thought still haunts me today.
Now, exactly eight months later I sit here in the same bed that he took his last breath in, watching our baby girl take her first. Jordan Olivia Graham weighes 6 pounds 3 ounces and was born at 3:17am on Friday December 21, 2012, the day the world is supposed to end. As I hold her in my arms and stare into those beautiful blues eyes, I think of her daddy. Oh, how I wish he were here to see you. Oh, how I wish you could've heard the way he made that Gibson guitar sing. Maybe one day, baby girl, maybe one day...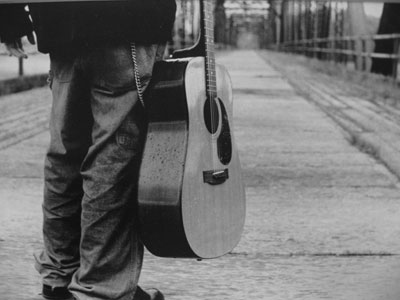 © Bailey M., Eagan, MN