Sonnets Sang On Rollercoasters
February 9, 2012
She stumbles, and she blinks.
Torn up pages of Sudoku books.
Cocks her head, and stares at stars.
She breathes, deeply.
But she does not have enough fingers
for any of it to make sense.
She never learned to play Scrabble.
Or Solitaire.
She likes to yank bushels of purple phlox
just after it rains
so that teardrops still settle on the fine silk
and she can wipe them away, and know that sun
always comes
in time.
The thimble never wins a game of Monopoly.
And strategy, they told her, is everything.
At Five A.M she jump ropes
and she counts until she runs out of stars.
And unreadable notes of overgrown daydreams
dance in the fireplace, until she runs out of jumps
to count the beat.
Because Candy Land was always just a dream.
And she never saw the point in Shoots,
if she had a Ladder.
Stolen ballet slippers
and torn hair bows
and chipping nail polish
and empty tea cups.
When her moon is heavy, she tilts the little cup
very low
and the last inkling of a drip fall to the rim of the saucer.
And now she can see her reflection.
And it's like playing Clue, if only she'd ever learned.
Because it's such a game, it is,
staring at herself, swimming in the blues of her eyes.
'Cause she never learned The Game of Life.
And I hear there are lots of tricks.
Maybe someday, she'll ride a unicorn
and understand why there are mirrors on every merry-go-round.
Maybe someday, she'll comb the knots out of her hair
Wipe the mud off her toes
Get to the end of the maze before she runs out of ink
to count the corners.
Maybe then, rules won't exist.
No one ever reads the directions anyway.
And the objective, is the stars.
Too bad she ran out of fingers.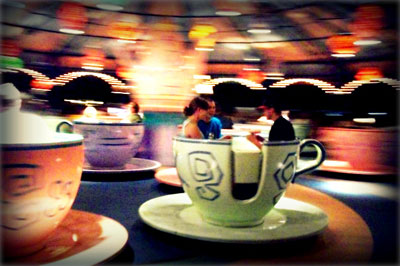 © Lynn S., Baltimore, MD