Nothing Can Compare
January 21, 2012
Dawn breaks
Her head on my heart
Her hand on my chest
I wake with warmth bubbling inside me

I turn my head
To look down at her
Peaceful expression
My hand goes to stroke her cheek

With a smile on my face
And love in my heart
I see her open her eyes
Her oh so beautiful eyes

We stare into each other
We see the other for who they are
And we hold onto each other
More tightly, as we accept who we are

The blankey beneath us
Has stored our warmth
As I sit up, she pulls me down
I don't want to leave either

Closing my eyes, I whisper
The words we know are shared
Between us, always and forever
And as I speak, she caresses my cheek

"I love you, as you love me.
That's the only way to say it,
Because nothing else in the world
Compares."

She nods her head, and
Leans up, to share a kiss
We are in bliss
She smiles, and says,

"I'll love you always,
My dear, for I have found
The one who completes my soul
And nothing else compares."

A tear leaks out from
My eyes, and she kisses it away
I hold her tightly, but not too hard
For I'm afraid that she'll break

"Without you, I would
Be lost, unable to
Find my way home.
For you are my home."

The truth of that
Echoes through our hearts, our
Souls, and we never let it go
For nothing can compare

To the love between two
The love between them
The love that sparkles and shimmers
The love we all hold, ready to be shared.

Nothing in the world
Nothing at all
Can compare to the euphoria
Of this love.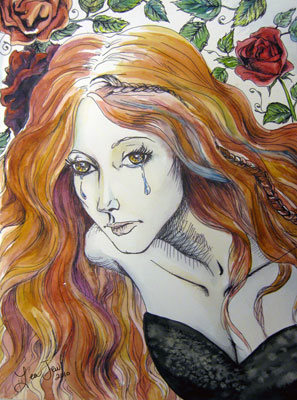 © Leonora J., Fullerton, CA