Between Scylla and Charybdis
January 21, 2012
I took those doubts, wrote them on stones
and lined them up like bones inside our bodies.
Some of them stood tall like knights
in a forest, torn from fighting
while others washed away with the water from the rain.

Every mineral makes a myth of
the median of meanings for hate and love
and between each stone,
There lies sad eyes and sympathy.
The torn, tired flesh hiding an ocean
of trial, tears and passion

Under watery eyelids, we don't see strength.
With broken bones, we can't feign fury.

Instead, what meets the eye courts the mind
and ties an eternal knot
in the folds of our hearts

It breeds its breakage
in roaring our waves of blood.
And that river should flow without confirmation -
without any verification of illness, torment or
imperfection.

The stories on the stones could never paint the picture
of the breath taking setting on your side of the river

So with my paltry pen and perverse perception
I will tear this forest down
and hope that the river keeps me separate from you,
your eyes and your views.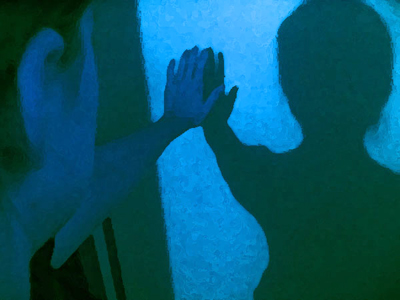 © Katie C., Libertyville, IA