Procrastination
February 2, 2012
Procrastination
You; quietly toxic
Full of hate and accomplishments to fail.
Your require to conjure up a death of an obligation
To break it down until there's no more to handle;
Until there's no more to concern.
Beginning with deep focus, ending with piercing frustration
Always allowing you to let
The disturbances embezzle my ideas away.
Until there is no more to spare;
Until there is no more to care;
You slowly tear.
The optimism has vanished and I have become un-relished
The hope of overcoming the mysteriously sinister of a
Harmful lifestyle
The lifestyle which feels almost impossible to escape
Without notion,
You sneak.
You slither like a slimy snake into the crooks of my mind.
Your venom spreads through my veins like a disease infecting a healthy corpse.
But waiting, shallow within my self conscious,
You are painfully reminding me of what's to come,
But you don't bother
To let me securely latch like a leech onto the deadly idea,
You hinder;
You gawk onward;
Onward to my failure, you feed off of it.
You grow with every ounce of malfunction developed in my head.
But no matter what I do to attempt to fight you off,
You stay.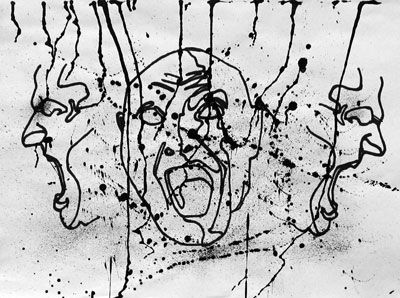 © Luke S., Montclair, NJ