Eclipse
January 28, 2012
Who is this woman?
And when did she become a woman?
She was once a black girl.
Chicago raised and family bred.
Celebrating Hanukkah, Kwanza and Christmas
Then New Years with her friends who were jealous that she was allowed to basically skip school when December rolled around.
She played with the other 'blacks' in a neighborhood where color was the line between streets and where being Jewish usually got you a little more than a blow to the back and a scar to show for it.
She ran with the other ten year olds that didn't tell their parents where they were going and hoped the big brothers didn't find them before nightfall.

Then, the black girl became a white teenager.
Suburban and fashion oriented,
Celebrating Shabbat every Friday night, and never having plans with friends unless the newly married father said it was okay.
She played with the other 'whites' in an area where a black man shopping at a grocery store drew all too many stares, and there were few enough African Americans in the schools that the counseling department deemed it necessary to start a therapy group for the 'blacks that just didn't fit in.'
They called it Equinox, because during an equinox, the black night has just as much time in the sky as the white clouds,
But they forgot that the black evening sky is still peppered with white stars, even in the dead of the night.
They should have called the group "Eclipse" because even when the dark is showing, you know that the lighter side of the moon is coexisting peacefully

When the white clouds had moved on, and the black night was no longer daunting,
The black girl had moved on with the wind, and the white teenager had been blown away with the clouds, leaving the real woman behind.
A beautiful, biracial warrior rose from the fallen stars to fight for the things she believed in.
The moon became her shield, and the pen became her sword.
In the dead of the night she would fight stereotype.
She didn't always win; fried chicken will remain her favorite food, and Baby Phat jackets really are quite comfortable.
But the woman never gave in to ignorance.
Occasionally the warrior surfaced, but only long enough to remind the people who got in her way that she had both light and dark on her side.
The clouds had lifted; she was no longer black, or white.
Like both sides of the moon, the girl she was and the woman she is coexist without hesitation.
And somewhere out in the night sky, a star is waiting for the next eclipse.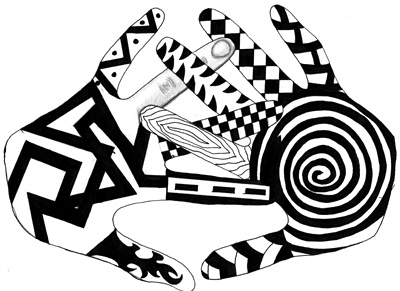 © Sarah F., FL