Graduation
January 20, 2012
Seems like I've been waiting for this forever
Like every step was always here
This direction, these frozen seconds in time
It's here, it's now, the height of my life
I'm shaking off childhood
Applications, registrations
Graduation's staring me in the face
Staring at us..
As if it'd never seen us before
How did four years turn into four months so fast
Can I snap a picture before this passes me by?
Have my moment to fly
So I can say it was worthwhile
You wouldn't believe the things I've seen
Inhibitions broken down
Like the walls of a room with no sound
I've seen people hit the ground
But get right back up
Running with courage I never knew was there
I've seen those who dare
To put everything they've got
Out for the world to see, and it's not
Just a game anymore
Not just another day anymore
It's the seconds left before
The rest of our lives begin
Now let me ask, are we ready?
Am I ready to let them go?
Let them take off on their own
Pursuing dreams I've come to believe
Are anything but impossible
Now it's logical for me to fear
What's up ahead, but I'm getting better
With every day that I just take silence
For every moment that I speak
Learn to observe, sort the strong from the weak
And be somewhere in between
Just for a balance
Cause where I'm at now
Is somewhere caught in the middle..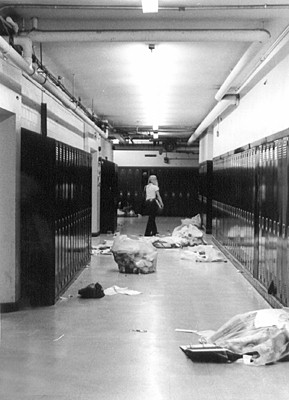 © Halsey S., Marblehead, MA