Sunflowers
January 30, 2012
She was standing in the grass, looking up at the sun.

Some of her black and gray hair had come loose from her

Ponytail, and was flying around her face in little black and

Gray tendrils. Her smell wafted up to my nose, she smelled

Of sugar and sunshine. Her eyes were delighted and her

Mouth was curled into a smile that showed her ultra- white

Teeth, making them flash brilliantly in the sunlight. Her face

Was dotted with freckles and her skin was smooth and pale.

She wore a purple, long sleeved shirt with green and amber

Buttons and she wore light tan capris that fell down to just

A couple inches above her ankle. She was standing tall and

Straight with her hands on her hips. She reminded me of a

Sunflower enjoying the last days of fall, before winter came

And killed everything. She was a sunflower who ignored all

The dark, slimy things that were at her roots, and instead

Looked to the sun for warmth and comfort. The air was

Crisp and cool and tasted of fall, in all its glory. The

Leaves rustled lightly over the ground as a cool breeze flew

By. This woman who stood so tall and straight, and smiled

At the sun is no other than the woman who brought me into

Existence and helped me to ignore all the dark things in

The world and to instead look to the sun for happiness and comfort.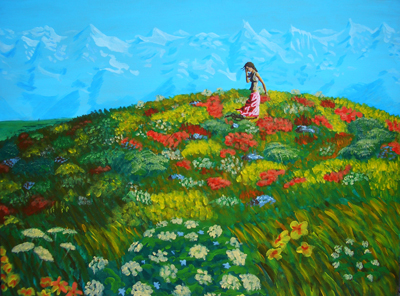 © Allison F., Langhorne, PA