The Words are my Shackles
January 29, 2012
Wealth is at my fingertips.
All I want to do- is LEARN.
But these ideas aren't real-
they are human
they are created- by man.
"Words are not absolute
and cannot define the absolute."
It
Means
Nothing.
I scream and cry and beg
for these words
to leave
me
ALONE!
I wish I could go back
to a time
when my mind could be
F
R
E
E
but these human ideas-
these words and labels
are restless.
And they do not leave you.
Once they are rooted in,
you cannot pull them out.

SO although I want to learn-
I feel constrained.
You can only reach a certain
point, with these words as
Shackles

upon your wrists.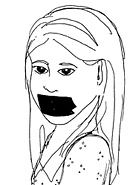 © Liza M., Vineland, NJ