The Lesson of the Penguin
January 24, 2012
The personality of a penguin
caught my attention
one glorious night last summer.
He was an unusual fellow
who kept a lost look on this face,
and always mumbled the words
that came out of his mouth.

Unable to figure out what
reshaped that once warm soul,
I walked over and asked him,
"What is the reason
behind your low tide?"

Baffled at first,
he just glared at me.
It was only after
a crystal clear pool
formed in his eyes,
that he eloquently spoke,
"The wind beneath my wings has healed.
My sun has forever set.
My thirst for life has evaporated.
My soulmate glided towards Eden,
while I lay strapped to this floor."

It was not the answer
that I was expecting; but
without hesitating,
I opened up my satchel
and pulled out
my most prized possession.

I handed him a book,
smiled, then told him,
"take this, read it,
learn it, treasure it;"
then simply walked away.

I didn't expect to see the penguin
again, but
at dawn the next morning
I spotted a blossoming radiance
on the horizon.

I made my way to the shoreline
from the boardwalk to meet
my old friend.


Once I arrived,
I noticed that he had been
meditating with the book open
next to him.
Aware of my presence,
he looked up
with luminous eyes
and stated,
"Things to be happy about
numbers 2,717 to 2,722:
beach sunrises and sunsets,
the feeling of sand
in between your toes,
the color of the sea at dawn,
the smell of saltwater in the air,
and the feeling of cool, refreshing
water hitting sun-kissed skin."

I was astounded that he
never glanced at the book
when he told me those
five things to be happy about.
More importantly though,
I was inspired.
I would rather choose to love and not lose.
But at the same moment,
I dream of having the power to move on
and the hope that everything
will work out in the end.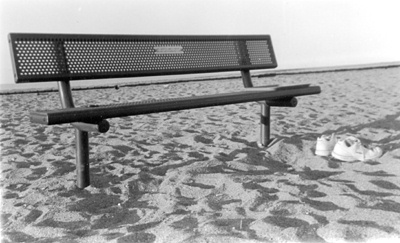 © Jenna H., Marblehead, MA