It'll Never Be Tomorrow
January 16, 2012
Wheneverythingbecomesjustaslurinmyeyesandinmyhead,
I know it is two AM.
When I begin to stare into my empty eyes and the mirror is covered in fingerprints,
I know it is two AM.
When the automatic table lamp on the end table in the living room finally clicks off,
I know it is two AM.

At two AM, everything changes. This is when the night stops feeling like night and starts to feel like tomorrow-
Wait, no, today.
Because it will never REALLY be tomorrow.
Because as soon as it becomes tomorrow it becomes today.

Every night I stay up, waiting for tomorrow.
Tomorrow is a better day, so they say.
But since it will always be today and never be tomorrow,
Life is just one long, continuous day.

It's two AM and I miss you.

At two AM I know I should try to sleep, but know I won't.

It's two AM.

This hour of insomnia.
This hour of unfaithfulness.
This hour of anger, of hate,
This hour of tears.

It's two AM and there is no hope for me.

At two AM, I crawl into bed to curl up and cry.

For when the clock reaches two AM,
I am brought to hell.

It's hot here, and awfully uncomfortable.
But I'm used to it.

I stay up 'till two AM almost every night.

When it is two AM, I will no longer be myself.

I will be two AM.

I can't wait for it to be three AM.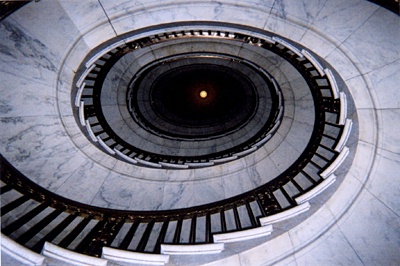 © Kyle T., St. Joseph, MO