American
January 16, 2012
I find myself on the wrong
Side of the road
and the wrong side of the Atlantic.
The yellow lines flash by to my right.

From the backseat I notice houses-
Ranches with sidewalks and mailboxes,
With bushes that crowd under windows.

I press my forehead against
The cool glass, where my breath fogs up the window.
African winter ravishes
All colour
From the landscape
And leaves it naked.

Spread out in front of me
An entire village exists
Planted in a field.
Weeds wrestle moisture out of the ground,
The only plants tenacious enough to survive.
Inhabitants of a cardboard jungle
Look as choked as the weeds.

Corrugated metal and cardboard
Compose their homes.
The surreal scene fools me
Into thinking it exists as abstract art.
A yellow tarp transforms into a roof, wall or door.
It matches the lines
that flash by.

An American separated by glass and culture,
I take a mental photograph
Before I am farther down the road
And we turn the corner,
Before an entire village lies
Only in memories
Which follow me the rest
Of my life; memories which I wish
I could share with the rest
Of the world.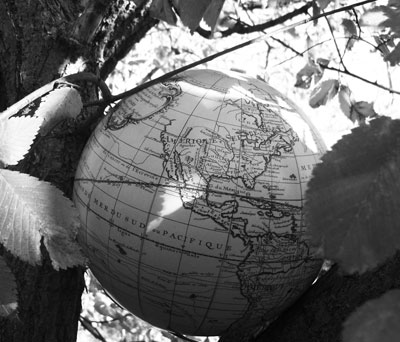 © Ella H., La Vista, NE